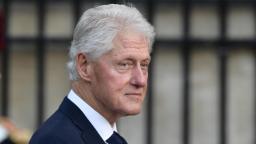 Clinton walked out arm-in-arm with his wife and former Secretary of State Hillary Clinton before greeting hospital staff and giving a thumbs-up when asked how he was feeling.
Clinton had been admitted last week to the University of California Irvine Medical Center's intensive care unit for a urinary tract infection that spread to his bloodstream. The former President, who was in good spirits throughout his treatment, had been treated in the ICU for privacy and safety, not because he needed intensive care, according to his doctors.
Clinton, 75, had felt fatigued on Tuesday and was admitted to the hospital after testing, according to his office. The former President was in California for a private event for his foundation, and Hillary Clinton went to the event on Thursday evening to "represent both of them" and then went to the hospital to be with him, a Clinton spokesman told CNN.
This is a breaking story and will be updated.