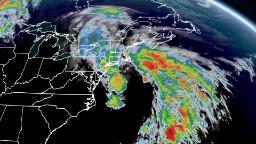 "A rapidly developing low pressure system south of Long Island will likely produce heavy rainfall across the region," according to the National Weather Service in New York.
Flood and flash flood watches are in effect from southern New Jersey to northern Massachusetts.
There is no doubt that the rainfall in the Northeast over the next couple of days will be because of this strengthening low pressure system, but there remains uncertainty on how strong it will get and how close to the coast it will track.
"Anytime you have two areas of low pressure trying to combine in the warm Gulf Stream off the Northeast Coast, models will differ on their solutions," says CNN meteorologist Chad Myers.
Forecasters are certain there will be rain but still unsure of how much. The Weather Prediction Center has issued a level 1 out of 4 "marginal risk" for excessive rainfall Monday and a level 2 "slight risk" for excessive rain Tuesday.
"Rainfall totals as this time look to be on the order of 2 to 4 inches," the weather service in New York wrote.
But some computer weather models are showing isolated amounts of 5 to 7 inches of rainfall.
"Hopefully, this scenario does not come to fruition as this would lead to widespread flooding issues," writes the New York weather office.
Winds are the other issue; the closer this storm tracks to the Northeast coast, the more robust the winds will feel to people living along the coastline. A closer storm also means that stronger winds will spread further inland.
Winds gusting to over 50 mph are not out of the question for eastern Massachusetts, Rhode Island and Connecticut, with gusts topping out near hurricane-force on Cape Cod and the Islands.
With the winds will also come coastal flooding, which is possible during high tide cycles on both Tuesday and Wednesday, the weather service said.
A similar system, made famous by George Clooney in the '90s, has its 30th anniversary later this week. While forecasters don't think this will be "The Perfect Storm," it will share some similarities in the types of conditions that can be expected.
The Boston National Weather Service has an interesting write-up on the storm's anniversary.
Another similar storm to Tuesday's nor'easter will try to develop by the weekend, says Myers. "But the energy for that one is still off the West Coast and will need some more time to forecast accurately."