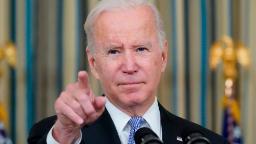 "It helps when you succeed on something and everybody sees and figures out what it feels like to win and get something done," a senior administration official said. "It creates momentum."
"Momentum" is hardly a scientific concept, and there aren't any misconceptions inside the West Wing about the complicated high-wire act required in the weeks ahead to clinch the $2 trillion economic and climate package that makes up the second piece of Biden's domestic agenda, officials say.
But the hours of frenzied Friday night negotiations, in close coordination with House Speaker Nancy Pelosi, led to something that has been missing throughout weeks of fits and starts, missed deadlines and delicate balancing act between moderates and progressives: An outcome.
Biden is planning to capitalize on that victory by inviting scores of lawmakers to the White House for a formal signing ceremony next week, officials say. It's the type of event where eager members of Congress angle for a photo-op or signing pen — something that has remained out of reach on Biden's central agenda items until now.
In isolation, it doesn't resolve the existing policy divides facing Democrats on both sides of Pennsylvania Avenue on the second piece of Biden's agenda. But it does give lawmakers, who for months have clashed over the direction of the bills, something to celebrate — and sell back home.
"Now comes the hard part," one House Democrat told CNN early Saturday morning.
It was a sentiment largely echoed by more than a dozen participants in the process throughout the weekend. But if the need to reconcile a series of policy thickets remains, there is a sense that the party dynamics may have, in fact, shifted in the frenzied final late-night hours that cleared the way to pass Biden's $1.2 trillion infrastructure proposal.
"You see that whatever the things that are dividing you or separating you, it helps to clarify that actually we agree on a hell of a lot more," the official said.
That process, arduous and painful as it may have been — both politically and in terms of the caucus dynamics — finally led to a breakthrough. Now that breakthrough needs to translate into action on the broader and more transformational economic and climate package.
That's exactly what White House officials are banking on.
"It ain't over yet as they say the old expression goes, but I feel good," Biden told reporters on Monday after an event celebrating the defending NBA Champion Milwaukee Bucks. "I think people have realized, are beginning to realize it's important to get it done."
Biden draws a line in the sand
The agreement drove the players leading those clashes together to reach a deal, culminating in a massive piece of legislation passing the House. In a party driven — in the words of one House Democrat — "not by mistrust, but by no trust," it was an important development.
It also came at a critical moment for Biden, with his poll numbers sitting at their lowest point of his first year in office and just days after Democrats emerged from an election night that saw their nominee for governor in Virginia — a state Biden won by 10 points just one year ago — lose.
"I think the one message that came across was: Get something done," Biden told reporters of the role in the Virginia governor's race in the outcome. "It's time to get something done. "
Biden, who for weeks took quiet criticism from House Democrats for not publicly drawing a harder line on what he wanted, pivoted hard to do exactly that during those final hours — something Pelosi explicitly called for, people involved told CNN.
But reaching that point was a progression, officials said, developed over months of negotiations, private conversations, blown deadlines, intraparty recriminations and — in some cases — what many Democrats viewed as missed opportunities.
It was, for better or worse, all part of the process for a new administration and congressional Democrats adjusting to full control in Washington for the first time in decade.
"It's getting to know a lot of these people, to build trust," Biden told reporters the day after the bill passed. "Because everything I say I'm going to try to do, I will try to do. And I think that's also part of the process."
A Senate veteran learns more about the House
Biden's point is a window into the last several months, where a 36-year veteran of the Senate — who often makes clear in private settings his view that he has an innate sense for Capitol Hill — faced his own learning curve, particularly in the House.
The party dynamics have shifted, with progressives carrying not just a voice, but the votes to dictate what will or won't advance. Many came to office in the four years after Biden left Washington. Even more had never served in the majority with a Democratic president.
Exacerbating it all were the barest of majorities in the House and Senate, making Biden's ambitious policy agenda — which progressives overwhelmingly supported — even more complicated to advance.
Biden has sought to reintroduce himself to the dynamics by hosting scores of lawmakers in the Oval Office, crowding lawmakers onto couches and hearing them out over the course of dozens of meetings since taking office. While each meeting usually has an officially stated purpose, they have served more generally as get-to-know-you sessions, during which Biden is able to gain greater insight into each member's particular needs.
For many, it is their first visit to the White House; Biden's predecessor Donald Trump did not habitually invite Democrats to meet with him. They often leave with White House-baked chocolate chip cookies or, more recently, specially commissioned ice cream bars bearing Biden's presidential seal.
A lightning-fast, at least by congressional standards, win on Biden's $1.9 trillion Covid-19 relief proposal in his first few months in office was — to a degree — misleading.
The urgency mattered, with the country still mired in the worst of the pandemic. Democrats were exceedingly careful not to undercut their new president — or their new Senate majority.
The path on his $3 trillion, dual-pronged domestic agenda has been significantly less seamless.
Even for the self-professed "congenital optimist" in the Oval Office, navigating the divides has proved frustrating in recent weeks as his negotiators and Democratic leaders sought to thread the needle through compromises and self-imposed deadlines, to no avail.
"We have to develop the will, and develop the will means putting aside personal agenda," Rep. Jim Clyburn, the House Democratic whip form South Carolina and a close Biden ally, said on "Fox News Sunday." "That to me has been a problem for us."
It also takes a recognition that any single member can create a new problem to resolve. Those problems appeared to perpetually win the day — until late Friday night.
"This, in terms of degree of difficulty is very, very high," the official said. "Which makes succeeding all the more satisfying and fulfilling."
Working the phones
Still, the plans for that victory were quickly thrown off track Friday morning by a small group of House moderates who refused to move forward without a full Congressional Budget Office accounting of whether the second package would be financed.
With that off the table for at least a week and maybe longer, Pelosi shifted course.
The decision to move the infrastructure bill without the second proposal, pitched by members of the Congressional Black Caucus and moved on by Pelosi, initially ran into the same progressive roadblock that had sidetracked the prior two deadlines.
But unlike those moments — when Biden was regularly on the phone with members but cautious not to corner or jam any member — the President went all in to find a path forward, according to people familiar with the calls.
He and his team worked in close coordination with Pelosi on who to call and what to float as potential options to reconcile the differences. The two spoke by phone four times, with Pelosi giving Biden names of lawmakers to call and working closely with his top negotiators as they worked through the process of laying the groundwork to move forward.
Biden made calls to moderate members. He made calls to progressive members. He talked to most of Pelosi's leadership team over the course of the day.
It wasn't immediately effective. Biden was explicitly told "no" in a call with at least one progressive — Rep. Pramila Jayapl, the chair of the Congressional Progressive Caucus — sources said. Jayapal initially rejected the effort publicly as well.
In a conference call with dozens of progressives, there was palpable frustration on Biden's part when the reticence to move forward on infrastructure without the second proposal was made clear, according to participants.
An official acknowledged that some of the conversations "were a little bumpy" and not everyone was on board at the beginning. But the decision was made to continue to press forward.
The result — after hours of calls, negotiations, an official statement from Biden — was progressive and moderate leaders coming together to craft statements committing to move forward on the economic and climate package once the CBO score was in hand.
Jayapal asked each to look her in the eye and give their commitment. Each member did.
Waiting on the budget office
White House officials are confident that score will largely line up with their estimates, crafted by Biden's top economic and Treasury teams late last week and bolstered by a Joint Committee on Taxation analysis that aligned with their revenue projections.
"We plan to move forward, because it's going to meet our expectations, I'm sure," Rep. Josh Gottheimer, a New Jersey moderate Democrat who helped clinch the final agreement.
The policy path forward on those negotiations hasn't dramatically shifted, even in the wake of the House adopting the procedural process for its consideration the week of November 15. The new deadline sets target for action on a measure that has been the driving force behind several blown deadlines in the last three months.
Nothing can get across the finish line without the approval of Sens. Joe Manchin of West Virginia and Kyrsten Sinema of Arizona, the two centrist Democrats who have been the focus of White House officials and Democratic leaders for months.
Neither has signed off on a final proposal, though Democrats have grown increasingly confident that Sinema is, in the words of one, "just about there." Manchin's concerns with elements of the House proposal, including the decision to include a paid family leave proposal White House officials decided to drop amid his objections, are well known.
Two moderate House Democrats — Reps. Abigail Spanberger of Virginia and Jared Golden of Maine — didn't sign onto the joint statement pledging to move forward if the CBO score comes back in line with estimates.
Six progressives, including Reps. Alexandria Ocasio-Cortez, Cori Bush and Ilhan Omar, voted against the infrastructure bill in protest and have made clear they are in no mood to continue the steady paring back of the economic and climate package on Manchin's demand.
But with every other progressive on board, White House officials saw the seeds of something they hope will pay off in the days ahead.
"I do think we're going to rebuild trust, then we have to believe that when they give a commitment publicly," Jayapal said. "When they look me in the eye and each one of them says to me, 'Yes, we're going to vote for this,' that needs to be enough for us to move forward."
CNN's Manu Raju and Kevin Liptak contributed to this report.