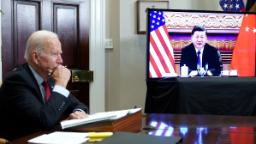 The President has not yet formally signed off on having no government officials attend, the senior administration official cautioned, but discussions regarding the matter have all leaned in that direction. The Washington Post was first to report on the news.
Democratic and Republican lawmakers, including House Speaker Nancy Pelosi, have advocated for a diplomatic boycott in protest of China's human rights abuses. Some Republicans have even suggested no American athletes attend either, but the official said a full boycott is unlikely right now.
The topic of the Olympics and Biden's attendance did not come up during his three-and-a-half hour meeting with Chinese President Xi Jinping Monday night.
This is a breaking story and will be updated.