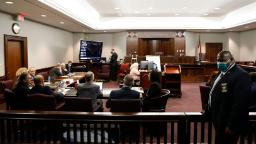 The jury in the trial for Ahmaud Arbery's 2020 killing will continue deliberations this morning.
Gregory McMichael, his son Travis McMichael and William "Roddie" Bryan Jr. are charged with malice and felony murder.
Arbery's killing sparked national outrage after a video of his shooting was made public. The 25-year-old Black man was out for a jog in Brunswick, Georgia, when he was fatally shot.
As we wait for a verdict to be reached, here's a timeline of the case:
Feb. 23, 2020 — Arbery is fatally shot: Arbery was shot dead in a confrontation with the McMichaels in the neighborhood of Satilla Shores, outside the city of Brunswick in Georgia's lowcountry. Arbery was on a jog — something he was known to do, according to those who knew him — when the McMichaels grabbed their guns and pursued Arbery. The men claimed to be conducting a citizen's arrest of Arbery. Bryan had also joined the pursuit and recorded the shooting on his cellphone.
Feb. 27, 2020 — Brunswick Judicial Circuit sistrict attorney recuses herself: The day after the shooting, Brunswick Judicial Circuit District Attorney Jackie Johnson recused herself from the case, citing Gregory McMichael's position as a former investigator in her office. The attorney general's office says it received a letter from Johnson requesting the appointment of a new prosecutor on Feb. 27.
April 7, 2020 — Second prosecutor recuses himself: Waycross Judicial Circuit District Attorney George Barnhill, who took over the case after Johnson rescued herself, sent a letter to the Attorney General's Office informing the office of his own conflict of interest: His son worked in Johnson's office and had previously worked with Gregory McMichael on a previous prosecution of Arbery.
April 13, 2020 — The case is transferred to a third prosecutor: After receiving Barnhill's letter, the Attorney General's Office appointed Atlantic Judicial Circuit District Attorney Tom Durden to the case. 
May 5, 2020: Video of the shooting surfaces: The 36-second video begins with Arbery jogging down the middle of a street toward a pickup truck stopped in the road. Gregory McMichael is in the bed of the truck while his son is standing near the driver's side door with a shotgun.
May 7, 2020 — The McMichaels are arrested: Gregory and Travis McMichael were arrested on charges of murder and aggravated assault.
May 11, 2020 — A fourth prosecutor takes over: The attorney general announced a fourth prosecutor, Cobb County District Attorney Joyette Holmes, would lead the case after Durden had asked to step down due to a lack of sufficient resources.
May 21, 2020 — Bryan is arrested: Two weeks after the McMichaels' arrests, the GBI arrested Bryan on charges of felony murder and criminal attempt to commit false imprisonment. 
June 24, 2020 — All three suspects indicted on murder charges: Four months after the shooting, a Glynn County grand jury indicted Gregory and Travis McMichael and Roddie Bryan on malice and felony murder charges in Arbery's death, District Attorney Holmes announced.
July 17, 2020 — Suspects plead not guilty: All three pleaded not guilty to the charges they face in mid-July 2020.
April 28, 2021 — Suspects are indicted on federal hate crime charges: In late April, federal prosecutors announced a grand jury had indicted the McMichaels and Bryan on hate crime and kidnapping charges.
May 11, 2021 — Suspects plead not guilty in federal court: The McMichaels and Bryan all pleaded not guilty to the federal charges in a hearing May 11. They remain in state custody, and the federal trial is set to begin February 2022.
Nov. 5, 2021 — Opening arguments in the Arbery murder trial begin: After a long and contentious jury selection process in a coastal Georgia county, a panel of 12 people — consisting of one Black member and 11 White members — was chosen. The younger McMichael took the stand during the trial as the defense's first witness and told the court he felt he was in a "life or death situation" when he shot Arbery. In her closing rebuttal, lead prosecutor Linda Dunikoski emphasized to the jury that Arbery was accused of no crime and the defendants told police they knew of no crime he'd committed. Lawyers for the men charged with murder used their final statements to say the McMichaels and Bryan had reason to believe Arbery was up to no good because he'd entered an under-construction home and he ran when confronted.
CNN's Eliott C. McLaughlin, Devon M. Sayers, Alta Spells, Christina Maxouris contributed reporting to this post.